If you currently have a ceramic tiled floor or even porcelain tiles, you will know that they look good and are easy to maintain but if you are thinking about changing the design of your room (or just the flooring), whether it is your kitchen, bathroom, hallway or conservatory, then no decision will be complete without considering natural stone tiles as an option (here are the top-rated at Amazon)
You may think your budget will not stretch to natural stone but they are available in a range of prices so don't discount them until you have checked out what's available. But before thinking about the cost, why would you want to choose a natural stone in the first place?
Flooring is a key design element in any home that can set the whole tone of a space, but it is not easy or cheap to replace and often needs to fit with a range of styles should you decide to alter your décor over time. So it is important for both design and cost consequences that you make the right choice the first time.
Natural stone is beautiful and durable with individual characteristics that simply can't be matched by mass-produced ceramic or porcelain tiles, which are all the same and offer no interest to the viewer. Certainly, porcelain tiles now come in a "natural stone" effect but these are usually poor imitations of the real thing because they do not contain the natural variations and slight imperfections that make a natural stone so unique.

But even though stone tiles are durable, they do need good, thorough maintenance and will need to be sealed with an appropriate sealant after installation. You will be able to get advice from a reputable supplier about the particular products best suited to different types of stone.
But more important than all of this is the look of the tiles and your personal preference about what sort of design statement you want to make. Will it be ultra-contemporary, traditional, rustic, or classically understated? All of these personal preferences will influence your choice. Marble is perfect for a classic, luxurious look, or slate is for the ideal rustic flooring in a country cottage. Highly polished limestone (check on Amazon) creates a contemporary feel and some travertine floor tiles manage to combine elegance with a rustic edge. All are impressive.
Don't forget to think about how the color of the floor will complement your furniture, fittings, accessories, and artwork. Pale golden limestone floor tiles are a perfect background for a neutral design scheme or a bolder one using bright colors. On the other hand, dark slate tiles or black marble will define the design scheme and can mean that other items in a room have to be chosen carefully to avoid the scheme becoming over-dark (or worse, drab and depressing).
But the natural stone is versatile and can look great anywhere provided the style and color are selected carefully to suit your style of interiors. It can be a key element that creates harmony between several different rooms.
A few final considerations:
Safety – Remember that highly polished surfaces can be slippery when wet so may not be the best choice in bathrooms or wetrooms.
Samples – make sure to view samples in your own home under your lighting conditions (not the bright lights of a showroom)
Cost – shop around for bulk buys, discontinued lines, and special purchases of natural stone. You won't regret choosing them rather than ceramic tiles or porcelain tiles.
The Beauty of Tile – Without the Drawback
When considering an upgrade to tile or stone in your home, many people want to have the look of real ceramic tile or marble; but financially just can't go there. But what many people don't realize is that they can have an expensive and luxurious look without the cost. Creating the room of your dreams doesn't have to be out of reach, with laminate tile and stone flooring, it is possible.
Laminate Tile designs range from dark to light, plain to patterned, and textured to smooth. First-time DIY installers tend to choose bathroom tile designs that are solid colors because they are a little less complicated than following a patterned design.
Laminate tile flooring is superior in so many ways. First of all the highly-advanced processing techniques that are used today create so many advantages and here are just a few of them:
Cost – Laminate tile flooring is generally about half the cost of ceramic tile or stone. You can also forego the investment in expensive tile-cutting equipment or the expense of a professional installer
Ease of Installation – It takes only a few hours of work to install laminate tile vs. days of installation with ceramic tile. For example, Alloc produces a wonderful commercial stone that requires no grout or prep work whatsoever. Laminate tile flooring just snaps together easily like a puzzle and can be installed by practically anyone in the afternoon!
Durability and Functionality – Laminate tile flooring can be used in virtually any room of the home. Wherever you want to add richness and depth to a room, and are looking for longevity – that's where you should consider going with laminate tile.
Water Resistance – Many people are hesitant to install laminate flooring in areas that may be exposed to moisture, like the kitchen or bathroom. But fear not! Laminate tile flooring is made with superior water resistance accompanied by an excellent manufacturer warranty.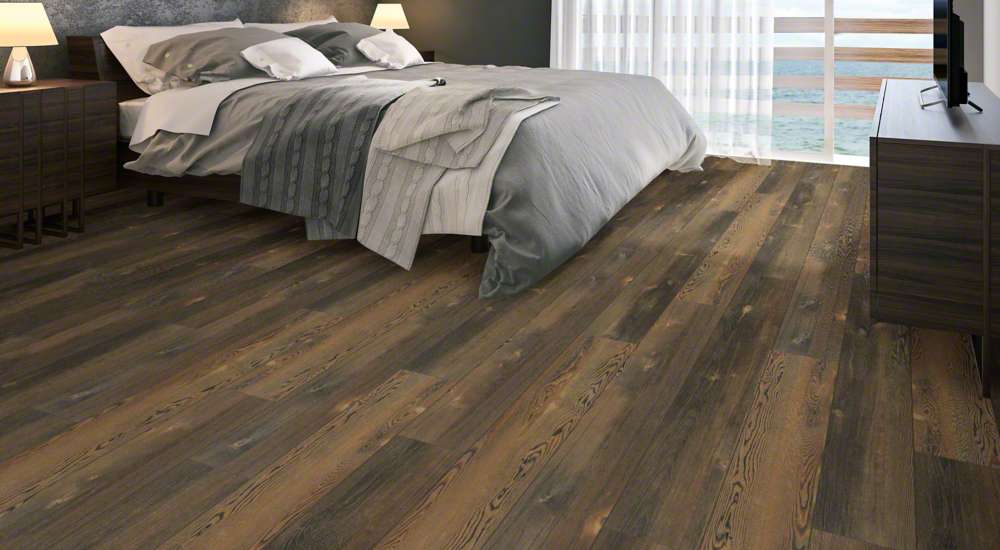 Worried about the coldness of the floor in your bath, kitchen, or entryway with tile? Don't be! Another wonderful benefit of laminate tile that many do not know is that it can be installed with under-floor radiant heating.
When choosing the laminate tile you should first decide on what feeling you would like to create in your living space, then on color scheme and styling. There are hundreds of choices available. One of the most popular picks for bathroom flooring is a slate stone laminate. The stone decor stands out and provides a sophisticated but warm aura to the bathroom or kitchen. A lighter-colored stone, Travertine laminate tile flooring gives a refreshing and rich look to living spaces throughout the home.
As with any flooring, you will have to take care of it. A daily sweep with a broom is usually a great idea. A bi-weekly cleaning of your laminate floor with a laminate floor cleaning product will be necessary, to keep that beautiful, clean look.
Have no idea where to start? Look for the most popular and most-trusted brand names in laminate flooring like Pergo, Quick-Step, and Kronoswiss, just to name a few. Request free samples to check the color, texture and learn more about the flooring you like.
Laminate flooring can give your kitchen that "wow" factor that you have been looking for. With so many choices, you will find a pattern that fits in with your furniture, wall colors, and the character of your home.